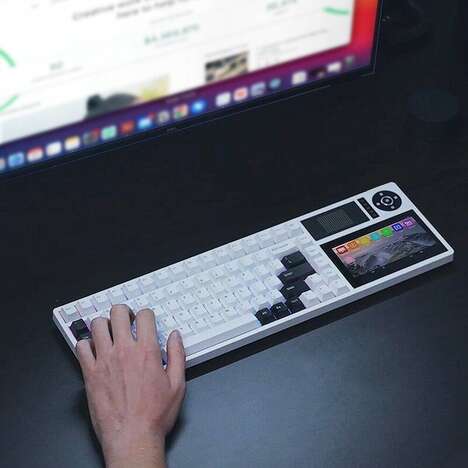 Qeeke, the consumer electronics startup that focuses on creating high-quality mechanical keyboards, unveiled the 'CR840,' a keyboard with built-in multimedia features. The keyboard features a 75% layout, meaning it has a row of function keys, but it does not have an additional numpad on the right-hand side. This does not mean the keyboard is smaller than a full-size keyboard, though, as it features a built-in streamdeck where the numpad would be.
The streamdeck features a speaker, a media control button, a smart trackpad, and a small LCD touchscreen display. The display allows users to set various hotkeys such as one-click application openings, stream scene changes, and many more convenient functions.
The CR840 boasts an RGB backlight with hot-swappable keycaps, which means users can personalize their keyboard with keycap designs and materials that they enjoy. On top of this, the RGB backlight is capable of changing its color to match nearly any PC setup.
Image Credit: Qeeke