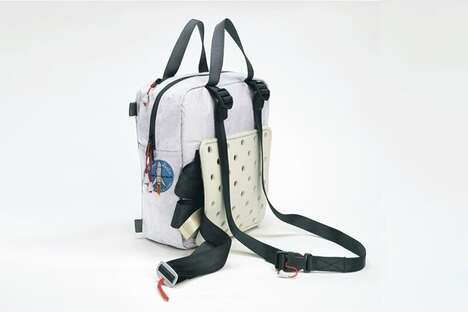 Artist and designer Tom Sachs continues his penchant for astronaut and space-themed aesthetics with the launch of his newly designed Rocket Factory Fanny Pack Pro. The release of the space-ready side bag comes one year after Sachs first teased the idea during the launch of his Rocket Factory NFT collection.
The Rocket Factory Fanny Pack Pro is a much larger version of the original bag and can therefore carry bigger items including an iPad and a 13-inch MacBook. In terms of features, the innovative waist bag comes equipped with a detachable aluminum hook, adjustable nylon herringbone compression straps, and an aluminum quick-release buckle.
Other noteworthy elements of the Rocket Factory Fanny Pack Pro include parachute cording for securing a wallet or set of keys, a handmade T.SACHS porcelain bead, and water-resistant covering.
Image Credit: Tom Sachs, designboom, tomsachs